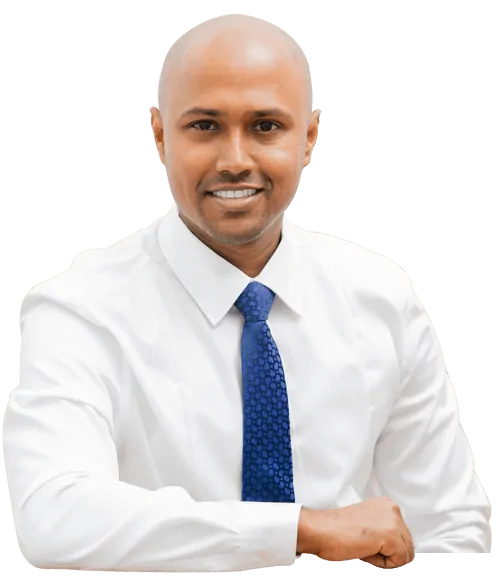 MEET THE DOCTOR
Dr. Shihabur Rahman
BDS, FCPS, FWFO (USA)
LASER DENTAL is one of the most hi-tech dental clinics in Dhaka, serving all of your dental needs with special emphasis on 3D Dental Scanning, 3D Face Scanning, Guided Dental Implant Surgery, Digital Smile Design, Laser Dentistry, Invisalign Clear Aligner, ZOOM! Teeth whitening, Computerised Injection Facility, Painless Injection Facility, Dental Braces, and Scanning whole mouth with world's most advanced Intraoral Caries & Plaque Scanner and many more.
Are you looking for the best dentist, a dentist near me, or the best dental clinic in Uttara & Banani, Dhaka, Bangladesh? Yes, you are in the right place.
One of Bangladesh's best cosmetic dentists, Dr. Shihabur Rahman, received advanced training in Digital Smile Design from Europe. Additionally, he has specialised training from Europe by Straumann in Guided Dental Implant surgery. He also specialises in same day full mouth rehabilitation and All-on-4 Guided Implant surgery from USA.
Helping patients achieve good dental health & beautiful smile is a privilege & responsibility. For over 10 years, my team & I have proudly provided the best dental experience in Bangladesh. Our comfort-first approach is designed to meet the needs of you & your entire family.
At our dental office in Uttara, our philosophy of care is defined by our personalised service & advanced hi-tech treatments. We approach every patient with the same level of gentle, thorough care & attention we would give a member of our family- and it shows ! You will love the warm & friendly staff & relaxing environment.
"Experience the future of painless and precise dental care with our cutting-edge laser treatment at LASER DENTAL. Your smile, our precision!"
"Experience dental care without the fear – Our painless computerized injection system makes your smile our top priority!"
"Experience the future of precision dentistry with our state-of-the-art 3D dental scanner – where innovation meets your smile!"
"Experience the future of dental implants with our cutting-edge Guided Dental Implant technology, ensuring precision, comfort, and a smile that lasts a lifetime!"
"Transform Your Smile with Precision and Artistry – Experience the Future of Dentistry with Digital Smile Design at Our Clinic!"
We're Creative Crafting With Love

Best Dentist and dental staff in the city ! The new office is amazing; state-of-the-art equipment & the decor rivals any high end office around. I actually look forward to going to the dentist again & again.
Topu (Celebrity singer)



I was so afraid of Injection since my childhood. But when Dr. Shihabur Rahman gave me Injection, I didn't even realize anything at all! It was completely painless & since then I am one of the biggest fans of Dr. Shihabur Rahman. I have recommended many new patients to LASER DENTAL from my friends & family members.
Azmeri Asha (Media celebrity)



Dr. Shihabur Rahman and his staff are AMAZING! My daughters and I came in for our first visit and I mentioned that my older daughter had anxiety when it came to dentists. The staff took her by the hand, explained the entire process and involved her in every way possible. She left with a HUGE smile and said in the car, "I panicked for nothing mom!" Thank you for taking the time with my children and making it a true pleasure. Best Dentist we have ever gone to!
Zinia Khan



This is the only dental clinic I have ever been to where I felt like they were telling me the truth about my teeth and not trying to get money out of me! Dr. Shihabur Rahman is very gentle and told me exactly what he was doing and was very attentive to my needs.
Tanvir Ahmed



Great service and care! from front desk to the Doctor and the stuff . Dr. Shihabur Rahman is an awesome Dentist, also friendly, professional, and helpful. I am very happy and pleased with his work. Highly recommend everybody to go there and take their service.
Labonnya



I've seen a lot of Dentists over my lifetime because I've had some serious dental issues. But my highest praise goes to Dr. Shihabur Rahman and his staffs . I was always very anxious going to the dentist but this time at LASER DENTAL, my experience was so painless and relaxed their was no discomfort whatsoever.
They make scheduling easy and I love their text reminders and follow-up as well.Thank you!
I rate it the full 5 stars. I'd rate it 10 if that were an option!
Rosy Afrose



Just have to say a very caring Dentist who is excellent in reassuring their patients and gives excellent service, explains what they are doing every step of the way. The best Dentist I have ever seen!
Abdus Samad Azad